Well, I have basically finished Green Gable. The only things left to do are the sleeves. Sigh. Which brings me back to the same problem I had with Rusted Root. I don't know why I can't seem to bring myself to learn how to use 2 circulars to complete the sleeves. I even have the instructions printed out in color lying on top of my Green Gable to motivate me to finish it. But, alas, to no avail.
So I decided to cast on for Talia after admiring Amateur Craft Mom's and Juicy Knits' Talias. After scrounging through my stash, I tried a swatch with Patons Classic Merino wool but the gauge was off by too much. Not to mention the fact that I really didn't want a white vest. So I decided a swatch with Cascade 220 in a gorgeous burgundy shade. And for the first time ever in my life, I got exact gauge!! It made me so happy since I could never seem to be spot on. Holding onto the gauge throughout the project...well that's a different story. I'll be going to Seattle for 1.5 weeks next week, and I'm not sure if I should bring Talia with me. She is going to get complicated and I don't know if I want to bring something that I might not be able to fix without access to Ravelry, online knitting videos, and other knit friends like Amateur Craft Mom and rchrispy.
If I get really lucky, Talia should look like this...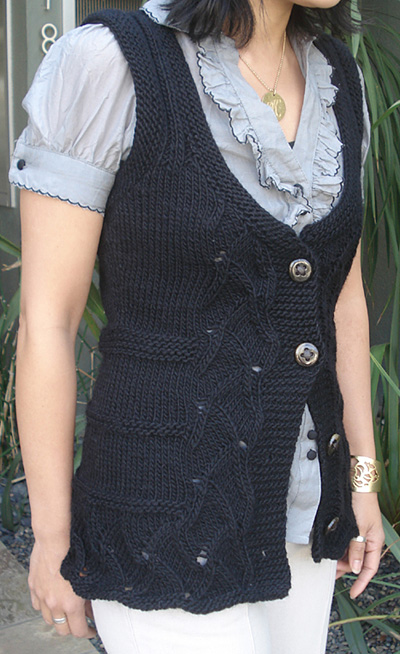 And look at her gorgeous waist shaping...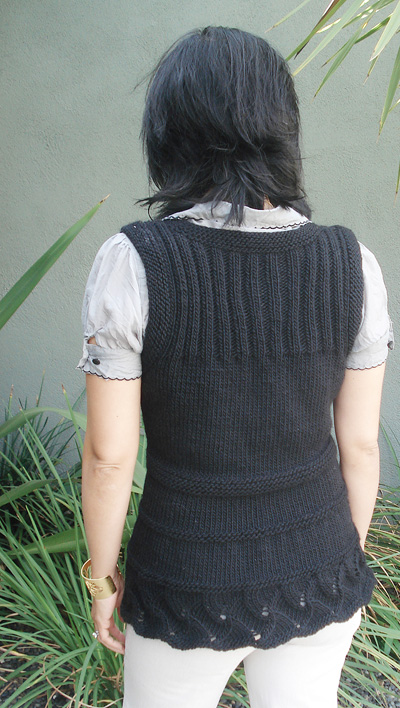 I would love it if anybody has suggestions for mellow, plane/airport knitting patterns. :-)